We are halfway through the week of Armchair BEA and today's discussion is all about stepping 'Beyond the Borders'.
It's time to step outside your comfort zone, outside your borders, or outside of your own country or culture.
Tell us about the books that transported you to a different world, taught you about a different culture, and/or helped you step into the shoes of someone different from you. What impacted you the most about this book?

What books would you recommend to others who are ready or not ready to step over the line? In essence, let's start the conversation about diversity and keep it going!
I personally like almost any sub-genres under Young Adult. Still there are a few genre, like paranormal, mystery and thriller which are not as frequent as others. Then there are a few NA reads I've enjoyed. And of course, some very popular classics. Overall, there are too many to recommend but I'll randomly pick and try to mention a few *peeks into the Goodreads 'read' pile* :
The Unbecoming of Mara Dyer (Mara Dyer #1) by Michelle Hodkin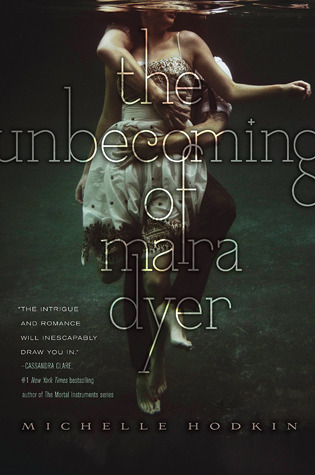 Mara Dyer doesn't think life can get any stranger than waking up in a hospital with no memory of how she got there.

It can.

She believes there must be more to the accident she can't remember that killed her friends and left her mysteriously unharmed.

There is.

She doesn't believe that after everything she's been through, she can fall in love.

She's wrong.
I got and finished this book just a few months ago. I haven't yet read the second one. Still, I'm dying to get my hands on the third one which isn't published yet. This book was a really refreshing read for me, after having read almost the same kinds of genres at a stretch for quite sometime. And its mystery and paranormal element is wonderfully executed. There were moments when I felt as disturbed as Mara over a situation. I feel that if you can connect and empathize with the main character of a book, then that's a successful writing!
This Song Will Save Your Life by Leila Sales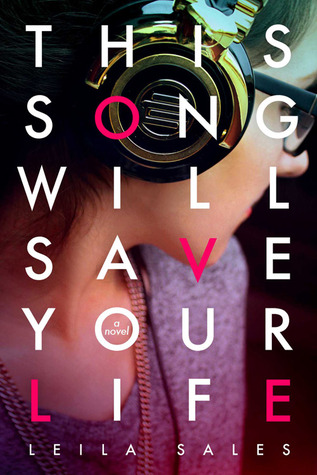 Making friends has never been Elise Dembowski's strong suit. All throughout her life, she's been the butt of every joke and the outsider in every conversation. When a final attempt at popularity fails, Elise nearly gives up. Then she stumbles upon a warehouse party where she meets Vicky, a girl in a band who accepts her; Char, a cute, yet mysterious disc jockey; Pippa, a carefree spirit from England; and most importantly, a love for DJing.
Told in a refreshingly genuine and laugh-out-loud funny voice, THIS SONG WILL SAVE YOUR LIFE is an exuberant novel about identity, friendship, and the power of music to bring people together.
Oh Gosh! It reminds me I still have to post my review. I had read it really long ago, but then my real life came up interrupting me with unnecessary trivialities and I completely forgot..it's really unfair of me! But the book got an almost standing ovation from me. If you are a normal teenage girl with normal issues, you would be completely able to connect to Elise. It's not a heavy read, But what I love is how Elise evolves gradually as a person from the beginning till the end. And personally, it's also one of my favorites because I could relate to her at some parts;)
Sneaking Candy by Lisa Burstein
One taste is never enough...

All I ever wanted was to make a name for myself as Candice Salinas, creative writing grad student at the University of Miami. Of course, secretly I already have made a name for myself: as Candy Sloane, self-published erotic romance writer. Though thrilled that my books are selling and I have actual fans, if anyone at UM found out, I could lose my scholarship…and the respect of my faculty advisor, grade-A-asshole Professor Dylan.
Enter James Walker, super-hot local barista and—surprise!—my student. Even though I know a relationship is totally off-limits, I can't stop myself from sneaking around with James, taking a few cues from my own erotic writing…if you catch my drift. Candy's showing her stripes for the first time in my real life, and I've never had so much fun. But when the sugar high fades, can my secrets stay under wraps?
This is a pretty traditional NA book. But it portrays something that cannot be ignored easily. In real life, most of us have 'sides', the one we use in front of others and the one we actually enjoy being. The struggle of Candice to keep her 'Candy' figure in disguise because she doesn't want to risk her possibilities and chances is shown very subtly yet wonderfully. As I said, it may sound typical while reading. It's not heavy with languages and actions. It's not heavy with philosophies either. But if you've ever in your life felt like the real you is being kept under the covers just for the "decency'c" sake, you would be able to relate to Candice.
And Then There Were None by Agatha Christie
Ten people, each with something to hide and something to fear, are invited to a lonely mansion on Indian Island by a host who fails to appear but leaves a recording accusing all of undetected murder. Cut off by his orders, one by one each die according to a nursery rhyme Ten Little Indians. A confession in a bottle solves how nobody remains alive.


This, so far, is the only book that was able to make me shiver with fear. Seriously. I know, most of you have probably already read this. It's a Legend for me. I remember visualizing myself on the exact same scenarios, in the Mansion, beside the beach, at the orchard...it was long ago when I had read this, and somehow, for some unknown mysterious reason, it still manages to give me goosebumps when I think about it. So in any case you've missed it. DON'T. Read it. But yes, make sure you're not reading it all alone, and also that you aren't as weak-heart as me :/
What do you recommend???
Want to buy any of these books? Consider ordering via Book Depository: