Book:
Cress (The Lunar Chronicles #3)
Author:
Marissa Meyer
Genre:
Young Adult, Fantasy, Science Fiction, Romance
Publication Date:
February 4th 2014
by Feiwel & Friends
Previous Book in the Series:
Scarlet (The Lunar Chronicles #2)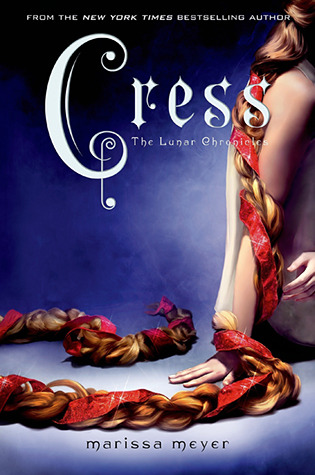 Blurb:
In this third book in the Lunar Chronicles, Cinder and Captain Thorne are fugitives on the run, now with Scarlet and Wolf in tow. Together, they're plotting to overthrow Queen Levana and her army.

Their best hope lies with Cress, a girl imprisoned on a satellite since childhood who's only ever had her netscreens as company. All that screen time has made Cress an excellent hacker. Unfortunately, she's just received orders from Levana to track down Cinder and her handsome accomplice.

When a daring rescue of Cress goes awry, the group is separated. Cress finally has her freedom, but it comes at a high price. Meanwhile, Queen Levana will let nothing prevent her marriage to Emperor Kai. Cress, Scarlet, and Cinder may not have signed up to save the world, but they may be the only hope the world has.



My Rating
:
4.5 out of 5 stars
I am a wee bit disappointed. I didn't expect Cress to be a total guy piner. Okay, so she has been alone for a very long time and she craves for companionship. But stalking Thorne? NOT DONE. It looks like the author is doing it in a reverse, first the almost ass-kicking Cinder, then the slightly soft Scarlet, and now the drooling and Thorne-fangirling Cress. Seriously? I expected a lot more than this.
"But you are a prisoner," said Thorne.
"I prefer damsel in distress," she murmured.
Thorne would come for her. He was a hero. She was a damsel. That's how the stories went- that's how they always went.
Really? *pukes*
Before you start thinking I'm some unemotional heartless fellow with a rock in the place of a heart (which may be only slightly true), I admit that I have sympathy for what Cress has gone through. She has been locked up in a satellite for about seven long years, with no human soul to provide company, except for the thaumaturge Sybil. And it may be totally unjust of me to criticize her for her lack of...what shall I say...a little self respect. But that's just me. I can't tolerate girls that keep fawning over guys and thinking they are some poor, little, helpless fellow in need of rescuing. I. CAN'T. Luckily, Cress stops being so overly melodramatic before I could get annoyed enough to decide to skimp through her chapters. On technological terms though, she's a savvy. She plays a very crucial part in the book afterwards. Maybe that's the reason the book is named after her. In practical life though, she's pretty useless.
I loved Scarlet in the last book. She was pretty strong as a title character in her place,

WAY LOT BETTER than Cress in this one of course...and I never felt like she invaded Cinder's part in the story. Even the romance element was good too. I never felt like Wolf or she was overdoing it. And the girl can really take a stand for herself when needed, without any whining. I am sad though, that there weren't much of Scarlet here in book three. It looks like Marissa Meyer compromised her part in order to give place to Cress and other characters, which is very much justified, I must admit. However, the few chapters she appear in, are well worth the wait, so that made up for her lack of presence pretty well. But I really really hope there's more in the final book. She is my second favorite after Cinder, I don't want her to go in the backseat ever :/
Call me a biased and emotionally manipulated witch if you would, but I root for Cinder. ALWAYS. In fact, I think I'll go bawling if she is made a supporting character in Winter. I would probably go one a strike, with Iko. Decided.
She is Awesome. With a capital A. She is probably the main reason, apart from the wonderful plot, that keeps me going and hyperventilating over the series so much! Now you may attribute this awesomeness to her being a cyborg and all, but I would prefer one cyborg

like her over thousand princesses like Cress (technically though, Cress is not a princess, but you got the point) Though I am quite confident that the author won't make her disappear since it seems that no matter what the book titles are, the story is still pretty much revolving around Cinder (I'm hoping Miss Meyer too has a softer side for her;))
Best. Android. Ever. Seriously. If I was born in a dystopian sci-fi land similar to the story and was to choose an android for me, my first choice would have been to find out an android like Iko. Because I agree with Cinder. She is the MOST human android ever. And even after being a machine, her antics have the ability to put the girls to shame!
"Iko. My name is Iko. If you don't stop calling me the 'ship,' I am going to make sure you never have hot water during your showers again, do you understand me?"
"Please don't tell me you're obsessing over this wedding because you actually think you're in love with him?"
"I am," said Iko. "Madly."
"I want you to know that I hold nothing against you," she said, by way of introduction. "I understand that it isn't your fault your programmer had so little imagination."…"In another life, we could have been sisters, and I feel it's important to acknowledge that."…" But as it stands, I'm a part of an important mission right now, and I cannot be swayed from my goal by my sympathy for androids who are less advanced than myself."
Cinder found herself smiling. "You're the most human android I've ever known."
"I know."
She seems to befriend everyone on board, even Cress-the-socially-awkward starts to feel comfy around Iko. And she keeps talking about dresses, ball gowns, heels, hair colors and not to mention, her eternal crush Emperor Kai. She has to struggle to act android while she's on their mission.
Kaaaaaaaaaaiiiiii *Trying to imitate Iko's voice* Kai. Kai. Kai. *sigh*
It looks like yesterday when he tumbled into my life out of nowhere. I still haven't gotten used to calling him the 'Emperor'. He's still Kai, at most Prince Kai. My heart felt for him everytime he appeared in the book. His are mainly chapters full of desperation and helplessness. The only trifling light of hope he sees is when he is almost confirmed in his belief that Princess Selene may be alive after all and Cinder is somehow going to help her overthrow Levana. Apart from that, the guy's life and mind is pretty much shaken and there is no way out for him from what seems to be a two-sided knife.
Thorne is, well, Thorne. So don't expect him to turn into someone heroic or gallant or anything. He loves a good flirt still, but Cress may or may haven't made a difference in his life. Though Thorne being Thorne, don't disillusion yourself thinking it makes him gooey or anything (but Cress makes up for both way too well *gag* )
Wolf is probably the most lost among the guys. At point I could almost feel the hollow in his heart, the pain that's eating him inside out. He has lost Scarlet to the Lunars. He doesn't know how she is. He doesn't even know whether she's even alive. And even if she is, Wolf had experienced just enough to realize that being alive as a Lunar prisoner is not something to be relieved about. And sadly, his thinking is correct to some extent. The tortures Scarlet goes through gives a crawling feeling to my skin.

And still she doesn't break. That is my heroine *fist bump*
Winter: The Princess.
I knew the moment I heard that voice on the Lunar trial. And she sounds so extraordinarily generous and sweet and helpful, just like the original fairytale Snow White. And her will to comfort Scarlet really surprised and touched me. She would make a FANTASTIC Princess, if she could ever make it at all, with all the madness going. But I already feel like I don't want her ill, in any way. What would I do then in the fourth book if the title heroine is sick? :O
To top it off, I would say that author Marissa Meyer has done justice to the story to a great extent. Yes, the book's title is Cress and it is supposed to be about the gallantry of Cress or something, only it isn't. As an author, Meyer must have had reasons to do so (Reasons it's possible I failed to understand as a reader and a student whose one of the areas of studies is to look at things from a slightly feminist pov, and now it's probably started to take its toll on me). I have yet to read the final book so I would hold back any final generalized verdict, but so far, personally Cinder is my classic. I loved Scarlet, and I adored Cress, because Cress is probably quite strong in terms of story development and world building, and there are way more actions, manipulations and struggle to fight off the Evil Queen (sounds so stereotypical though:p). So it can never turn out to be a disappointment for me, ever.
Oh and more spoiler type information I'd like to slip in..there are two kisses, two actually noteworthy kisses in the book. The last one has literally made me squeal like a loonie and set my heart aflutter. It was long due and well-worth. And obviously my mom gawked at me while I swooned over it. Hehe. Never mind xD
Now there, seriously
?

After listening to my psycho-babble going on for this eternal, you are still here and have not run off to buy the book?! The stars!!!
BUY THE BOOK